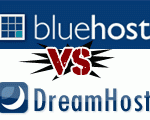 As a blogger, a small or home based business, the decision of which hosting company to use can be a difficult one, as there are so many to choose from.  BlueHost and DreamHost are two of the most popular hosting companies, and whilst they offer similar packages, there are differences between the two that could be the deciding factor in which one to use.
BlueHost in Brief
BlueHost was founded in 1996, and is based in Utah, with over 5000 servers, 3 data centers, and over 500 in house staff to assist with any queries or issues.  They currently host millions of sites, and over 850,000 blog sites. Their reputation for efficiency and customer service far exceeds any other hosting company.
DreamHost in Brief
Back in 1997, DreamHost was launched by 4 Computer Science undergraduates at Harvey Mudd College in Claremont.  What started as a single Pentium 100 web server and a shared bandwidth has now grown to a company with 1500 servers, more than 100 employees, and currently hosts more than 1 million domains.
Comparison
One of the great features BlueHost includes in its professional web hosting plan is the use of cPanel, which enables the customer to manage their site easily and efficiently. DreamHost on the other hand, developed their own custom control panel which is not as modern as cPanel and is more difficult to use.
The BlueHost plan also includes unlimited disk space, monthly bandwidth, add-on domains, MySQL databases, hosting websites, and email usage, as well as a free Domain name, an easy to use site builder, 24/7 customer support service and $100 Google AdWords credits.  You also receive a free SSL certificate with BlueHost, something which is an additional charge with DreamHost.  Whilst DreamHost plans have similar features to BlueHost plans, the main differences are in Price and Support.
Currently, BlueHost is offering their plan for a special price of $4.95 per month, with free instant set up and all of the features you could want or need.  Their standard price is only $6.95 per month, and their pricing varies depending on how long you sign up for. There is also an Anytime Money Back Guarantee.  For a similar plan, DreamHost is currently charging $8.95 per month, plus a set up fee of $49.95. They also have a money back guarantee that is valid for 97 days.
Aside from the features and pricing options, the other service that sets BlueHost above DreamHost is their Support service.  Their 500 + in-house support staff are available 24 hours a day, 7 days a week, by telephone, email and chat.  Their telephone service boasts an incredible average of 30 seconds on hold.  This means that there is no waiting for answers to your queries or issues, which can be invaluable.  DreamHost however have a much smaller staff base, and not all of the customer support services are free.  This can result in long delays in getting the support you need to keep your site running effectively.